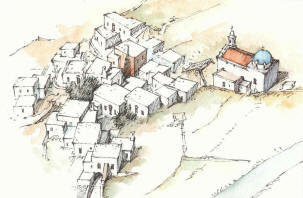 Monastiria, Tinos (click to enlarge)
Project highlights:
◊ Properties & Tourism: Promotion of unique properties and tourism related projects
◊ Tourism innovation: Project implementation on Tinos/Cyclades as a model of a new innovative sustainable tourism strategy for Greece
◊ Cultural heritage: Organization/coordination for the restoration of the "Holy Monastery of the Assumption", Tinos/Cyclades, in cooperation with local and EU authorities
◊ Specialization: Restoration of historic structures and their subsequent commercial integration
◊ Expert network: Business, technical and legal expertise employing project teams with excellent local know-how
Links
The Founder and Principal of IMTa™, Dr. Ioannis M. Theologitis has over the past 15 years established a reputation for excellence in combining economic and technical expertise. Dr. Theologitis and his team have specialized in business concepts and technical realizations of unique real estate and land/housing projects.
One of the core activity areas of IMTa™ is the restoration and integration of historic settlements in unique state-of-the-art housing concepts. Together with his staff, highly experienced in planning, engineering, crafts, management and related administration and legal issues, the entrepreneur proposes a unique new model for tourism development for selected regions in Greece. Exclusive housing projects on Tinos island/Cyclades are being realized through the combination of innovative approaches and extraordinary solutions, finely tuned to Greece's rich tradition and vast cultural and architectural heritage.
Our range of professional services includes:
• Identification/conceptual planning of unique tourism projects
• Restoration of historic stone mansions - design and construction of modern holiday complexes - application of bioclimatic, energy-efficient, eco-friendly architectural/structural design
• Design and construction of modern houses and holiday complexes
• Leading expert teams in technical/commercial project development of land & housing recreational complexes in Greek tourism regions
• Expertise in planning and executing projects to aesthetically restore ruinous settlements and abandoned historical sites, including their integration into high-quality, sustainable tourism concepts
• Comprehensive business and administrative project handling: town planning legislation, public authorities processes, financing/fund application, land acquisition, project realization and marketing

Project Realization
In order to realize a project, the project team coordinates and covers the entire administrative requirements of all project phases: locating suitable properties, price negotiations, coordination and liaison with local banks, brokers, public and municipal authorities, all legal and notarial procedures, including property title inspection, final completion of the acquisition process, monitoring and continuous control of all investment and business objectives.
In technical terms, IMTa™ is responsible for the organization into project teams and the management of highly trained and experienced architects and engineers, professionals possessing the highest standards in innovative, practical, aesthetic design. Technical implementation is always undertaken with a special sensitivity to the local tradition. The best local craftsmen complement the sustainable technical work. IMTa's core team members combine decades of experience in a broad spectrum of successfully delivered construction and restoration projects in both the private and public sectors.
The investment framework may be subsidized up to a certain percentage from either a single or a combination of several funding programs of the European Union. The level of the subsidies depends on the characteristics of the particular investment plans and also on the EU funding programs available at the specific period of the project realization. IMTa™ is always up to date on all financing issues and coordinates grant provision during the financial planning and implementation process.